Autumn Statement 2012: Kevin Peachey answers your questions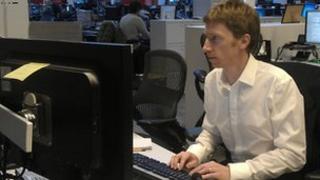 Following Chancellor George Osborne's Autumn Statement, BBC business correspondent Kevin Peachey answered your questions submitted via Twitter - using #AskBBCPeachey - and the BBC News website in a live Q&A session on Thursday, 6 December, between 15:30 and 16:30 GMT.
This is an edited version of the session.
Kevin tweets: Already had Qs on age-related personal allowance. Still frozen in Apr 2013 for those aged 65 and over, as announced in Budget
Richard Blundel (@RichardKBlundel) asks: Good capital allowance boost for SMEs, but when will British Business Bank launch and what will it do?
Kevin answers: Biz Bank aims to get long-term loans to small biz. Bits start in spring 2013; fully running autumn 2014
Andrew Riley asks: Why is the ISA saving limit so much lower for Cash ISAs?
Kevin answers: Campaigners unhappy only half of £11,520 Isa allowance from April allowed in cash but that's been case since they started
Stephen Mogridge (@StephenMogridge) asks: OBR wrong on the last 2 yrs growth, what chance is there they are right in this forecast? #AskBBCPeachey
Kevin answers: OBR reviews forecasts as factors change. '10 economists in a room, 11 different opinions' - so joke goes!
Steve Thornhill asks: Can you clarify whether the deficit has actually gone down this year?
Kevin answers: Have a few months left in the financial year but the deficit is forecast to fall this year, and to continue falling
continues: Remember: Deficit is the gap between amount govt spends in a year and the amount it raises through things like tax
Felicity Hansen (@iosal) asks: State pension rises 2.5% but what about min income level for OAPs?
Kevin answers: Std min guarantee: Single £145.40 (up £2.70). Couple £222.05 (up £4.15). [This answer was given as a correction to an initial error]
continues (2/2) For full list of how benefits are expected to change in Apr 2013 - see DWP page here (in pdf) http://bit.ly/11L2YJB
Frank Lay asks: There is no mention of an increase in the State Second Pension. Is it frozen?
Kevin answers: Additional State Pension, previously known as Serps. Will rise by 2.2% in Apr 2013, in line with Sept 2012 inflation level
continues: On the subject of pensions, one of the key changes was to pension tax relief. More details here: Pensions tax relief is cut again
Dave Campbell asks: Do the tax allowances next year apply in full to part-time workers or pro-rata?
Kevin answers: Everyone gets Personal Allowance (first chunk of income that is income tax free) irrespective of hours worked
continues: Personal Allowance goes up to £9,440 in Apr 2013 - that's £1,335 higher than level since Apr 2012. More here: Q&A: How will the Autumn Statement affect you?
And finally, Robert Black (@bugleboy12) asks: Why is it the Autumn Statement when it is clearly winter?
Kevin answers: Chancellor's choice. Named Pre-Budget Report under Labour. So packed this time, it is being referred to as a mini-Budget
For more tweets from Kevin Peachey, you can follow him at @PeacheyK
Produced by Alex Murray