Kenya election: The struggle for land in Mombasa
28 February 2013

From the section

Africa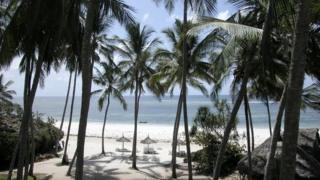 Land is one of the contentious issues in the competition to succeed President Mwai Kibaki - five years after the last election when voters from different ethnic groups turned on one another over a contested result.
On the coast, decades of anger about land grabbing by people from other parts of Kenya has led to the rise of a separatist movement.
For years, Mealii Ali had scrimped and saved to build a home of her own. Her husband, who works in the Gulf, would send money from abroad.
"It was almost finished," she tells me, as she shows me around the rubble that remains of her home which was demolished earlier this month.
She points to what would have been her daughter's room.
"We were going to move in after the election."
Ms Ali is just one of thousands of people in and around Mombasa who have been left homeless or dispossessed as a result of land grabs.
Her case is typical: The family has lived here for years - but they do not own the land.
Suddenly someone appears bearing title deeds, and applies to the court for an eviction.
This has been going on for decades, centuries even.
Boycott call
Ms Ali's friend, Zuhra Salem, reflects a historic sense of anger and alienation that is widespread on the Kenyan coast.
"My great grandfather used to have a very big [plot of] land. But he didn't have the title deeds, so they took it and gave it to other people. It's very sad."
Kenya's struggle for independence from British colonial rule centred on the fight for land.
After independence, in 1963, the new government was dominated by an elite many of whom hailed from the highlands of central Kenya.
They parcelled out valuable plots of land, on the coast and elsewhere, as a means of securing political influence, or simply enriching themselves.
Today, the link between land, wealth and political power remains strong.
On the coast, as the election looms, a separatist movement has been gathering support.
It is known as the Mombasa Republican Council (MRC) and it is calling on voters to boycott the election.
"The objective of our movement is to lift the coastal people from the neo-colonialism of the government of Kenya," says Randu Ruwa, the MRC's secretary general.
It is doubtful whether his movement has the organisation or indeed the support to achieve his dream of an independent republic of Mombasa, stretching the length of Kenya's coastline.
But the Kenyan government has been worried enough by their slogan: "Pwani si Kenya", which translates from Kiswahili as "The Coast is not Kenya", to try to ban the movement through the courts.
Many of its leaders have been arrested, including Mr Ruwa, who is now out on bail. We met in a secluded car park in the centre of the city.
"The international community can see what is going on and we are urging them to intervene in this matter," he said.
"Because we do not want people to go to fight.
"Everyone knows we are marginalised, so we don't see any reason for the international community to just keep watching till we go fighting."
'Everyone fears for their life'
Mombasa is a cosmopolitan city. Churches and mosques, Hindu and Sikh temples jostle for the attentions of the multitudes of people who have over the centuries made this port city their home.
But beneath the diversity lurks division.
Loise Thirika is a school teacher and an elder at the Presbyterian Church in the Kisauni neighbourhood.
Like almost the entire congregation, Ms Thirika is originally from central Kenya.
She is a member of the Kikuyu ethnic group, from whose ranks have come many of Kenya's ruling elite, including the current president, Mr Kibaki, and one of the leading contenders in the upcoming race.
For her and her community, the rhetoric of the separatists is a frightening prospect.
"The coast people always want us out of this place," she says.
"Of course, it worries us because when we hear 'Pwani si Kenya', that means the coast is not Kenya. That means they want people not from the coast to vacate. Everyone fears for their life."
Ms Thirika's fears are shaped by Kenya's experience five years ago when, at the last general election, different ethnic groups turned on one another over a contested result.
More than 1,000 were killed.
In his report into the violence, the former UN Secretary General, Kofi Annan, said the land issue was a major contributing factor.
Five years on, Kenya has a new constitution. It is designed to devolve more power to the regions and wrest Kenyan politics from the monopolising grip of a political elite based on ethnicity.
This upcoming election will be the new constitution's first big test. But, staring at the remains of what was so nearly her home, Ms Ali says she has already given up on democracy.
"I don't see who can help me now. I don't have the heart to vote for this country at all."
Listen to the full report on Thursday 28 February 2013 on Assignment on the BBC World Service.