US carmakers drive monthly sales to six-year highs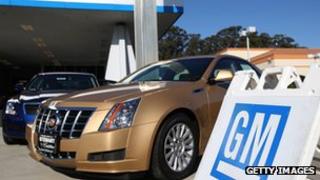 Sales of cars and trucks boomed in the United States in last month, giving the industry its best April in six years
Ford, General Motors, Chrysler and Nissan all reported double-digit sales growth, despite the continuing shaky economic picture.
Chrysler sales were up by 11%, Ford's numbers grew by 18% and GM sales were 23% higher.
Bucking the trend were Toyota and Volkswagen. Toyota sales were down 1%, while Volkswagen's fell by 10%.
For vehicle companies, the big brands were, for the most part, the power behind the sales increases.
Chrysler's Jeep Grand Cherokee SUV sales jumped 27%, while Ford's redesigned Escape SUV rose 52%.
But smaller, compact cars also did well, despite the recent easing of gasoline prices.
Sales of GM's Chevy Cruze increased by 21%.
But Volkswagen's mid-sized Passat fared less well, with sales falling 10%.
Clear road ahead
Even though Toyota's sales fell slightly in April, the company was optimistic about the rest of the year. Bill Fay, head of US sales for Toyota said the sales increases were a good sign, "especially with new products, low interest rates and plenty of pent-up demand'.'
Industry analysts see no reason why the market shouldn't remain buoyant.
Alec Gutierrez, a senior market analyst at Kelley Blue Book, expects US auto sales for this year to be around 15.3 million vehicles, a rise of 5.5% on last year.
"I don't see any significant hurdles on the horizon,'' he said
"I don't see us taking a step back, provided the unemployment rate at least holds steady.''