Wells Fargo agrees $335m mortgage payout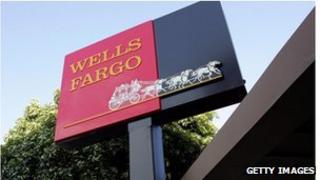 Wells Fargo has agreed to pay $335m (£208m) to settle claims it misled investors over mortgage-backed bonds during the housing boom.
The banking giant was accused of using false information in some of the documents relating to the bonds.
The claims were made on behalf of Fannie Mae and Freddie Mac - key players in the US market - which buy mortgages and sell them to investors.
Last month JPMorgan Chase agreed to pay $5.1bn to settle similar claims.
That was the biggest settlement ever by a US bank.
Fannie Mae and Freddie Mac are the biggest mortgage lenders in the US.
They received $187bn in US taxpayer aid to help them stay afloat during the financial collapse.
In 2011 the Federal Housing Finance Agency (FHFA) sued 18 banks and other financial firms over the mis-selling of mortgage-backed products to the two firms.