US baseball player 'loses part of ear' in fight with team-mate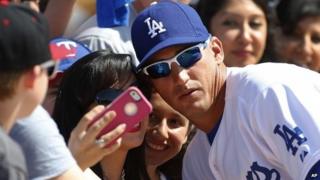 Baseball player Alex Guerrero from the Albuquerque Isotopes is reported to have lost part of his earlobe in a fight with team-mate Miguel Olivo.
An argument during a game in Salt Lake City developed into a scrap between the two players in the dugout.
Guerrero will need plastic surgery, his agent says, after Olivo allegedly bit part of his ear off.
Albuquerque Isotopes, a feeder team for the Los Angeles Dodgers, lost their game 7-4 to the Salt Lake Bees.
Guerrero, from Cuba, is an infielder with the Isotopes and Olivo, from the Dominican Republic, is a catcher.
A least one punch was thrown and one player's ear "was displaced by a bite", according to Guerrero's agent, Scott Boras.
Guerrero, seen as a promising prospect, has signed a four-year contract worth $28m (£16m) with the Los Angeles Dodgers.