Police forces learn to laugh on Twitter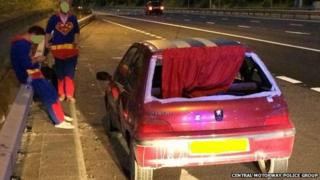 From rescuing a pedestrian from a mischievous squirrel to removing Superman's car from the motorway - welcome to the colourful world of the police force Twitter account.
Officers are increasingly embracing social media as a way to interact with the public and gather information about crime.
But alongside the usual CCTV appeals, wanted men and stolen property, police are also turning to humour as a means of getting their message heard.
It is a new style of interaction with the public - and the results are often proving surreal.
Just last week, West Midlands Police's motorway officers decided to stop a car after spotting a red "cape" flapping dangerously from the back of the vehicle.
The resulting tweet featuring a picture of the driver dressed as "Superman" went viral, along with the accompanying words: "Even Superman needs insurance! We don't work for Lex Luthor but we had to remove Superman's wheels from the road."
Another example came during a recent cold snap when Surrey Police tweeted a piece of advice for motorists, reminding them to check their cars for small animals which might have taken refuge under wheel arches or other hiding places.
The attached picture of a cow sitting on the bonnet of a car was retweeted more than 11,000 times.
---
Humorous police tweets - are they appropriate?
Lynne Owens, Chief Constable for Surrey Police (@CCLynneOwens) tweeted: "Staff have my full support in the use of social media to engage with & update public. Humour shows we're human".
The force's Roads Policing Unit (@SurreyRoadCops) added: "Humour helps us attract followers that perhaps would otherwise not follow. This helps with the serious witness appeals/messages."
Daniel Graham (@DACGraham) said: "I think anyone who has to deal with the general public has to have a sense of humour, so yes."
Commenting on Facebook, Dawn Blake posted: "Why not? They're human aren't they? We don't want rigid automatons protecting us, we want real people with humour, sadness, reality!!"
Will Barnes added: "Yes, joke depending, it helps keep attention and build positive relationships and views. Makes the police seem more down to earth and more approachable."
---
Yet more laughs were had in Chester last month when a local detective tweeted a bizarre encounter with a squirrel tormenting a pedestrian outside a pub.
Insp Richard Mallet, head of Surrey Roads Policing Unit, is one of many officers who update the account @SurreyRoadCops, which has some 13,000 followers.
"The cow on the car is still being tweeted by people now," he said.
"Posting something funny from time to time shows we are human. We recently pulled over a driver who was banned from entering Waitrose stores. So we tweeted that you get a 'better class of criminal in Surrey.'
"But it can also help us with our work. People just gloss over if they see a routine post, but we get a bigger response to appeals when we show a bit of personality."
Insp Mallet says the approach is being actively encouraged by senior managers, although it can be a challenge to keep tabs on officers tweeting potentially-sensitive information.
"We've been encouraged to do it, although we have to work out who's tweeting what. We have to keep the local media team informed, or we have the local press ringing up," he said.
"But it's good for us and it is a way of showing the public we are dealing with things."
'Yob gives finger'
Dan Barton, head of corporate communications at West Midlands Police, says Twitter has become a large part of the job, with a senior officer recently revealing "at least half" of calls passed on to front-line officers came via social media.
"We've effectively turned this into the day job," he says. "I think we have about 470,000 followers across all the accounts. We work very hard on this.
"We're having to trust staff a lot more, whereas before everything would go through the press office. Now what we're doing is encouraging hundreds of police officers to tweet stuff.
"It's about engaging people, and humour is a massive part of it. If police want to be part of the community, then what better way?
"One of our most popular YouTube videos shows a yob who spots a CCTV camera and gives it the finger - before bumping into a lamp post. It raises a smile but has a serious message."
But is there a potentially dangerous side to police forces taking such a relaxed approach to Twitter?
The issue has certainly led to controversy. Only this week, Hertfordshire Police was forced to apologise after tweeting about drug dealing and fraud during Colombia and Nigeria's World Cup matches. The tweets were seen as insulting by some.
And in February an officer's account was suspended following allegations of inappropriate use of direct messaging.
Ian Marsh, principal lecturer in criminology at Liverpool Hope University, says there is a danger police could become too "flippant".
"It would be a concern if any of this was making light of people's misery," he said.
"I'm thinking not of the hapless burglar who gets caught out but the victims of crime.
"Sometimes a particular crime becomes flavour of the month, but it's no consolation to the victims if police are making light of things.
"But the police need people to be on side. They're not stupid and they are looking to improve their image in the new media."
Andy Dickinson, senior lecturer in journalism at the University of Central Lancashire, said police were starting "a new relationship", not only with the public, but the media.
He drew parallels with the days before the police press office, when individual officers would speak more freely with journalists.
But he added: "In some ways they're damned if they do and they're damned if they don't. It's a positive thing, but everyone is going to be watching them like a hawk.
"There have been more than a few cases of controversy with police using Twitter.
"But social media is a place that needs policing. Now we have police on the 'street corners' of Twitter."