Britain's roads: Too dangerous to cycle on?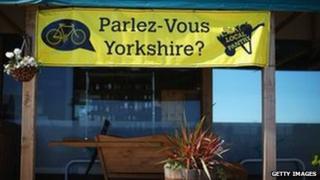 A new BBC poll, released to coincide with the start of the Tour de France in Yorkshire, shows that half of British adults believe roads are too dangerous to cycle on.
BBC News website readers have been telling us what it's like to cycle on Britain's roads.
Kirk, 47, Swindon.
I am 47 and have cycled on roads since I was a wee lad growing up in Somerset. In my experience, the worst drivers who care for nothing, especially cyclists are the drivers of 16 tonne tipper lorries.
A couple of years ago, while cycling to work along a short stretch of road in Bedfordshire, a tipper lorry almost ran me off the road. I felt the draft from its wing mirror as it went past. Since that day in 2011, I have hardly ridden on the road.
I have cycled in Holland and Germany and their cycle lanes are fantastic. If you're a driver in Germany you're told not to mess around on the cycle paths or the Polizei will throw the book at you!
It's about time we caught up. We have to protect the healthy cyclists.
Annie, 41, Lancashire
There is nothing wrong with the roads. It's the average driver who just doesn't give 2% of the respect they should towards cyclists.
Only yesterday I was hit by a driver who turned left whilst signalling right. He told me to stop going on about it!
Earlier this year I was knocked off my bike after being rammed from behind by a driver at a roundabout. He got out and swore at me. He told me to get up and stop making a fuss. I eventually won an insurance payout for the damage to my bike.
Every day we go out and have trouble with motorists who do not conform to the Highway Code. The problem is with the drivers. Used correctly, our junctions work well.
Daniel, 22, Manchester
I cycle to work every day and have done for two years. I have been hit by cars twice and the police have failed to do anything. The second time my bike was written off but because I didn't have any details, the police didn't pursue it.
There are two cycle lanes in my town, that amounts to less than 100m (328ft) of road. The state of the road surfaces around my town is abysmal. Rather than relay a whole surface, the council takes the cheap option and fills holes, which then expand and create more problems.
I do feel safe on the road as I am a very able and experienced rider, but I do feel the state of the roads and the lack of cycle friendly zones is putting a lot of people off making the transition.