Cash-strapped ENO pulls out of Orfeo at Bristol Old Vic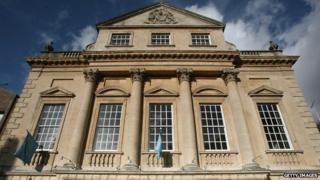 English National Opera (ENO) has pulled out of a production of Monteverdi's Orfeo as it faces a budget cut of 29%.
The ENO was due to stage the opera in collaboration with the Bristol Old Vic next April - its first production outside London in 15 years.
The Arts Council is to cut the ENO's annual funding from £17.2m to £12.4m in the financial year 2015/16.
John Berry, ENO's artistic director, said the company had to "reassess our artistic ambitions" as a result.
The production has now been put on hold while the Bristol Old Vic looks for a new collaborator.
Berry said: "The decision to withdraw from the production was made in the interests of achieving a balanced budget for the 2015/16 financial year, given the challenging funding situation from April 2015."
The ENO was the biggest loser in the Arts Council's latest funding settlement, which was announced in July.
"We are very sorry not to be working with Bristol Old Vic next year on what would have been ENO's first UK project outside London in 15 years," Berry added.
"However, maintaining a stable financial position is crucial to the company's future and the ENO board and management agreed that we must reassess our artistic ambitions and align them with the funds available during 15/16."
'Regrettable' decision
The show was to have been directed by the Bristol Old Vic's artistic director Tom Morris and is billed on its website as being "staged in a vivid format".
Morris said the decision was "deeply regrettable, given the level of excitement in the city".
The Bristol theatre is "committed" to staging the production in the next couple of years, he added.
"We are deeply sympathetic to ENO in their current situation and share their frustration in having to postpone their ambition to perform further throughout the UK.
"We are now actively pursuing alternate programming options for the newly available weeks."
Despite the cut to its annual funding, the opera company will get £7.6m from the Arts Council in one-off "transitional funding" as it moves to a new business model that includes working with commercial producers to stage modern musicals.