Your views of the news in 2014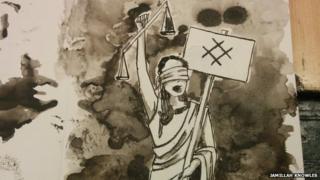 It's been a very busy year for news and big events, both nationally and internationally.
We have seen many significant events including the landing of Philae probe on Comet 67P, the emergence of Islamic State, the Ebola outbreak in West Africa, the crisis in Ukraine, Scotland's independence referendum and the 100th anniversary of World War One.
We want you to take part and send us your drawings, paintings, animations and videos and show the world what story grabbed your attention in 2014. We would also like to know what the image you choose means to you, so please send us a short explanation when you get in touch.
The end of the year is coming up, so you only have until 20 December to get your submission to us.
---
Here are the ways you can contact us:
Send your pictures and videos to yourpics@bbc.co.uk or text them to 61124 (UK) or +44 7624 800 100 (International). If you have a large file, you can upload it here.
Please include your contact details, an explanation of how you created it and your location.
You can also tweet us using the hashtag #drawthenews to @BBC_HaveYourSay
If your contribution is a video, you can also upload it to a sharing site (such as Vimeo, Instagram or YouTube, but not restricted to only those) and email the link to us to ugchub@bbc.co.uk using the hashtag #drawthenews. You'll need to upload your entry to a picture or video-sharing website where we can access it.
---
Your image must be your own creation. If your contribution includes images of someone else, they must give permission for their image to be used. Any music you include must be your own composition and performance. If your contribution is filmed at a venue/location, you must have permission to film there.
Your entry must not be defamatory or obscene or contain any element of advertisement material for commercial products or services
If you are under 18, your parent or guardian must submit your contribution and confirm they are happy for it to be published. If your contribution includes children (under 18), then the parent or guardian of each child must give written permission for the child's image to be used.
Videos or animations should last no longer than one minute.
The BBC may share your contribution with our websites, TV, including World News TV and radio networks and with our partners around the world, as well as on social media sites such as Facebook and Twitter.
---
---
Read our terms and conditions.