Children's doctor dies after difficulty on River Tawe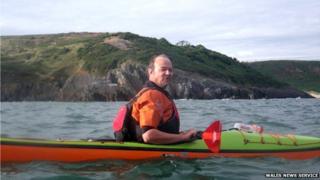 A children's doctor at the University Hospital of Wales has died after getting into trouble while kayaking on the River Tawe.
Consultant paediatrician Dr Damian Pryor, 52, was pulled from the river by emergency services on Monday after he was seen in difficulty at 11:55 GMT.
He was taken to Morriston Hospital at about 14:00 but died later that day.
Dr Graham Shortland from Cardiff and Vale health board said: "We are greatly saddened by this tragic event."
A spokesman from Cardiff Canoe Club, where Dr Pryor was a member, said "he died pursuing what he loved on the River Tawe".
"A full inquiry is under way and our heartfelt thoughts are with his family and friends. He will be dearly missed."
Dr Pryor joined the University Hospital of Wales in 2002 after working as a lead consultant at the paediatric intensive care unit at Kings College Hospital in London.
A Dyfed-Powys Police spokeswoman said: "A report was received that a male kayaker had got into difficulty on the river.
"The man was rescued from the water and was conveyed to Morriston Hospital by ambulance. He was taken to hospital and subsequently died."
A friend who was with Dr Pryor also got into difficulty but was not injured.