Web rallies around US man who walks 21 miles to work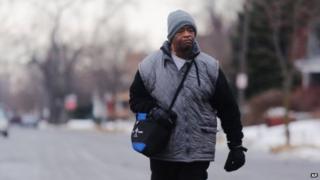 A Detroit man who walks about 21 miles (34km) as part of his daily commute has received thousands of dollars in internet donations after a newspaper told his story.
James Robertson, 56, works at a factory in suburban Rochester Hills, Michigan.
He rides a bus part of the way but has to walk the rest.
After The Detroit Free Press wrote about Mr Robertson on Sunday, multiple people started efforts to help him including offers of free cars.
Evan Leedy, a 19-year-old student at Wayne State University, read the story and started a GoFundMe site with the goal of raising $5,000 (£4,416). As of Tuesday, he and others had raised more than $130,000.
Mr Robertson says he is flattered by the attention and amazed that complete strangers would be so generous.
"Are you serious?" he told The Free Press after hearing that one crowd-funding effort alone had raised $30,000 by Sunday evening.
A nearby car dealership has offered to give Mr Robertson a new vehicle. Others have pledged bicycles and volunteered to drive him to work.
'Standard-setter'
When his car stopped working 10 years ago, Mr Robertson began making the daily trek to Schain Mold & Engineering where he moulds car parts. Even with cuts to bus services, he has had perfect attendance for more than 12 years.
"I set our attendance standard by this man," said Todd Wilson, plant manager. "I say, if this man can get here, walking all those miles through snow and rain, well I'll tell you, I have people in Pontiac 10 minutes away and they say they can't get here."
Recently, Blake Pollock has been giving Mr Robertson occasional rides. The banker passed him walking every day and finally asked what he was doing.
Mr Pollock offered to help Mr Robertson manage his windfall.
Informed about a federal programme newly available through Detroit's bus system that might pick him up at home and drop him off at his job, Mr Robertson said he would rather have more people benefit.
"I'd rather they spent that money on a 24-hour bus system, not on some little bus for me," he told the Detroit Free Press.