International Women's Day: Your views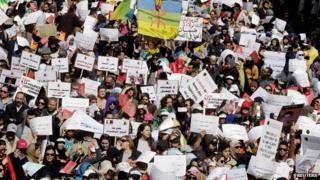 8 March marks International Women's Day, a day which recognises and celebrates women across the globe. It is marked by wearing a small purple ribbon. This year, the International Woman's Day theme is 'Make It Happen'.
We asked readers to nominate their inspirational person for International Women's Day. Here is a selection of your comments:
Many of you said your mothers inspired you
Khaldun Karazoun , Florida, USA, says his mum 'never gave up'
"She is a great mom because she never gave up. She pushed and encouraged me and my brothers to keep going. She always has a positive spin on everything.
In 1948 she moved from Palestine to Jordan because of the war. And in 1962 she married my dad and moved to Kuwait. Then Kuwait was invaded by Iraq in 1991 and so she moved, with us children, to Jordan.
She told us stories about these times. It is unbelievable how she managed to keep her family together and build a new life for her and her kids and grand kids out of nothing.
On top of that, my father passed away in 1985. She managed to send us to college and keep us on the right path. We were not a rich family but now I am an engineering manager, my older brother is a hotel director in a big hotel and my young brother is a business owner.
She is old but worth gold for us!"
---
---
@GuerriniEnrico also told us that he was inspired by his mother and grandmother because of "Their honesty, their will to work and help others and their tolerance in favour of everyone needs. Like a lot of other women!"
---
@SukriaSubba tweets: @BBC_HaveYourSay @BBCWorld my mother is the one from whom I always inspire
@sh52mjh tweets: @Sparrowtoo @HarriesMargaret @BBC_HaveYourSay @womensday Without your mum, none of us would be who we are today #PMH
Others nominated women who fought for their beliefs
---
---
Inci Arici says that International Women's Day "is an event to make women's voices louder all over the world. We were expecting 5,000 women at our event but more than 20,000 joined in.
At the moment Turkish women are discriminated against in society.
We think using violence towards the physically weak is a mental weakness. Not only does it make women suffer but it also makes men more violent because they think it is accepted in our society. We have to break this cycle of misery and give everyone the same values for a better and balanced society.
At the moment Turkish women are being discriminated over men."
---
---
---
---
@waterloo180615 tweets: @BBC_HaveYourSay Martha Deacon who did everything to save her family at the battle of Waterloo #iwd2015 #Waterloo1815
And others for offering care and support to communities
---