#GE2015 the results: Facebook Q&A with Chris Mason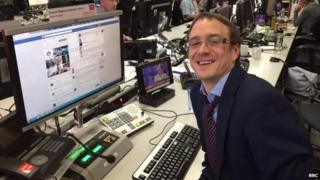 The UK has voted and while there were some expected results, there have been political upsets and an unexpected outcome.
The Conservatives will govern with a narrow majority while Labour and the Lib Dems have been trounced at the polls, with some big name casualties losing their seats along the way.
The voters have spoken but what does it all mean? The BBC's Political Correspondent Chris Mason answered your questions in a Facebook Q & A.
This is an edited version of the session:
---
Question from Andy Scott: Should our precious hard earned vote be made compulsory? My guess would be that most people that did not vote could have done so for possibly anyone other than Conservatives thereby giving a completely different result?
Chris answers: Hi Andy, we have no idea how people who didn't vote might have voted had they voted. The bottom line is elections are popularity contests amongst those who take part - and those who don't are voiceless. Whether voting should be compulsory or not is not something for me to have a view on. But what did strike me during the campaign when I was presenting The Listeners' Election on Radio 4 was the range of well thought through arguments from those who had decided against taking part. So I wouldn't equate not voting with apathy.
Question from Sam Hill: Do you think the Conservatives are better for fixing the economy being five years through their plan or would Miliband have done a better job, and should Miliband now resign after this failure?
Chris Mason answers: That's a judgement for you to make Sam, not me - but Ed Miliband has resigned as Labour leader.
Chris Spurgin asks: Hi Chris, what would a realistic timescale be for any electoral reform? Is there any greater appetite for that now than there was previously with AV?
Chris answers: Hi Chris - on the face of it, I don't see much chance of electoral reform at Westminster any time soon. The Conservatives were the most passionate defenders of the so-called First Past the Post electoral system in the referendum on the subject a few years back (http://www.bbc.co.uk/news/uk-politics-13297573) and they now have an overall majority. The current system has always favoured parties that had geographically clustered pockets of support rather than lots of supporters spread out... that used to be a curse for the Lib Dems but this time actually helped them cling on to their last few MPs, it is now a curse for UKIP and the Greens who would have performed much better if the electoral system was more proportional.
Chris Rogers asks: Given Labour has once again been comprehensively rejected, despite "all that's wrong in the country", will their new leader need to invent New New Labour now, becoming more centrist?
Chris answers: Labour will have a mighty lot of thinking to do - not only who will lead them, but how and in what direction. It's a massive challenge for them.
Blue Gray asks: Why were the polls so wrong (apart from in Scotland)?
Chris answers: That's a massive question Blue - and one loads of people in politics are asking. We're now hearing there will be an independent inquiry to examine what went wrong.
Tom Carvell asks: Will Boris Johnson likely have a role in government?
Chris answers: Yes - although he's still got his gig at City Hall in London until next year as Mayor of London, so that'll keep him busy for a bit. Oh and with David Cameron winning the election, there is no vacancy at the top of the Conservative Party just yet!
Chris Holmes asks: Given the number of lost deposits suffered by the Liberals, what happens to the deposits and who gets them?
Chris answers: I put a quick call in to the Electoral Commission who say the money goes to The Treasury, into what are known as its "Consolidated Funds." And don't ask me what they are, whatever you do...
Andrew Kelly asks: How quickly will the Tories now dismantle the NHS completely, and how do they plan to weasel out of the EU referendum?
Chris answers: Andrew Kelly, I'll have a bet with you. The referendum will happen and the NHS will be free at the point of access in 2020; politically the Conservatives will realise to go back on either of these plans would be politically incredibly dangerous.
Catherine Butcher asks: By the time we reach the next election we are likely to have three new party leaders - who might they be?
Chris answers: Now there's a good question Catherine Butcher! As someone who works at Westminster, a postcode full of people who predicted a hung parliament, perhaps I am the very least qualified person in the world to have a clue! But... seen as you ask the question, shall I have a go? Here goes: Labour, Chuka Umunna, Lib Dems Tim Farron and UKIP, Suzanne Evans.
Chris Mason: Right, call me a wimp, but I'm off for a bit of kip. I rolled in here at 9pm Thursday night and now, as it crawls around to 4pm the day after... 19 hours later, I'm going to knock it on the head. thanks for your questions, thanks for reading, writing, watching and listening - and have a good weekend. Cheers!