Over half of children in most deprived areas live with a smoker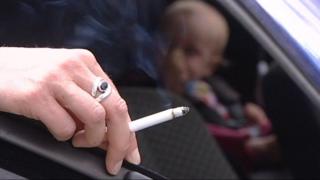 Over half of children living in Northern Ireland's most deprived areas are living with an adult smoker.
The latest research from the Institute of Public Health in Ireland (IPH) suggested that 58% of 11 to 16-year-olds from the most deprived areas lived with an adult smoker in 2013.
That compared to 25% of children living in the least deprived areas.
The data is contained in an IPH snapshot report entitled 'Smoke-free Spaces on the Island of Ireland'.
Socio-economic status
The Chief Executive of the IPH, Dr Elizabeth Mitchell, said the latest information shows major variations according to socio-economic status.
"In 2003, of those young people aged 11 to 16, who were co-resident with an adult smoker, almost four in five reported that an adult smoked inside their home.
"A decade later, two in five young people co-resident with an adult smoker reported that an adult smoked inside their home."
While that drop is welcomed by the IPH, Dr Mitchell says there is still much to be done.
She said that, while the data shows that considerable progress has been made in reducing children's exposure to smoking in their homes, the figures for children living in disadvantaged circumstances are deeply concerning in terms of the impact on child health.
"Serious consideration needs to be given to providing greater supports to people in deprived areas to help them to quit smoking, as well as addressing the root causes of such health inequalities."