Mount Stewart: More than 100 acres of estate now open to the public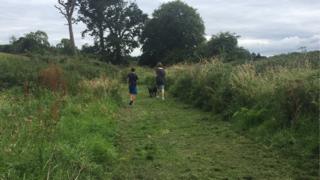 Hundreds of acres of previously private land is being opened up to visitors at one of Northern Ireland's top tourist attractions.
The National Trust bought 800 acres backing on to the Mount Stewart Estate on the Ards Peninsula in County Down as part of a wider restoration project.
It has put in a new path network which is open to the public from Wednesday.
It gives access to more than a hundred acres, with the rest planned to be made public over the next decade.
Until now, visitors to Mount Stewart only had access to the historic house and gardens and a tiny part of the estate.
Andrew Upton of the National Trust said it was part of a plan to reconnect people with the countryside.
The trail network is based on a series of riding trails that would have been used by the Marquess of Londonderry to exercise horses.
Tens of thousands of pounds were spent cleaning them up, cutting back vegetation and preparing them for pedestrian use.
People who plan to use them are advised that walking boots will be necessary as some of the ground is rough underfoot.
The entrance fee covers use of the trails.
There is also a plan for a natural play area for children.
It will contain carved wooden animals based on a children's book written by a resident of the great house in the 1920s.
The Magic Inkpot was a fantasy written by Edith, Lady Londonderry, for her two young children, Mary and Robin.