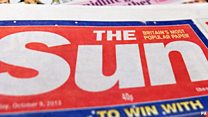 Video
Sun editor defends Queen Brexit headline
The Sun has been found in breach of press regulations for its front-page headline suggesting the Queen was in favour of the UK leaving the EU, the press watchdog has ruled.
The headline, "Queen backs Brexit", published in March, was "significantly misleading", the Independent Press Standards Organisation (Ipso) said and the newspaper was ordered to publish the decision "as a remedy".
"I don't accept we made an error at all," said editor-in-chief Tony Gallagher.