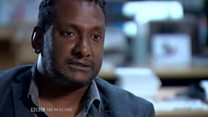 Video
Mauritius 'will be surprised to see John McAreavey'
A journalist in Mauritius says people there will be surprised to see John McAreavey.
Mr McAreavey has gone back to issue a fresh appeal for information about the killing of his wife Michaela McAreavey in 2011.
Journalist Nad Sivaramen of l'express newspaper has been speaking to BBC Newsline's Mark Simpson.