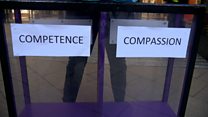 Video
Which matters more to public: Competence or compassion?
According to a report in The Guardian, party chiefs were concerned after surveys of public opinion showed Conservatives were seen as more credible on their policies, Labour were well ahead among voters when it came to compassion.
But can that be right, and which matters more to the British public? Sunday Politics reporter Emma Vardy used the unscientific test of the mood box and plastic balls to find out.
Go to next video: Is the EU the UK's friend or enemy?