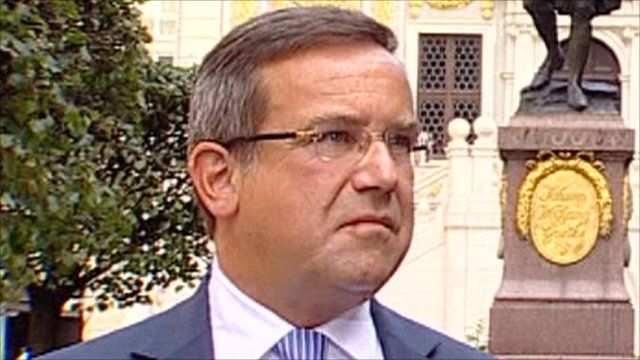 Video
Global economy: 'German people are a bit frightened'
Growth in the German economy slowed sharply between April and June and was weaker at the start of the year than previously thought, figures show.
The economy grew by just 0.1% in the quarter, according to provisional figures from the national statistics office.
The BBC's Steve Evans spoke to Detleff Bischoff, a German accountant and business lawyer, to try and get a sense of how the slowdown would be perceived.
Mr Bischoff suggested that this would be seen as a blip rather than a crisis, but that Germans were "a little bit frightened" about the debt issues facing other eurozone nations.
Germany had been driving the economic recovery in the eurozone and has played a key role in financing bail-out packages for struggling countries such as Greece and Portugal.
Go to next video: Germany counts cost of euro crisis