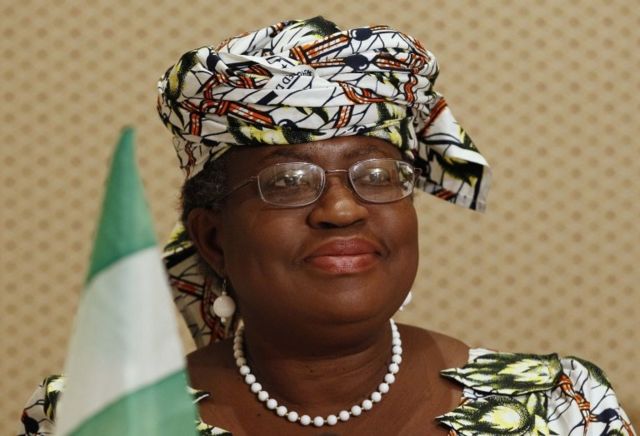 Video
Ngozi Okonjo-Iweala misses out on World Bank top job
The board of the World Bank has selected a US academic, Jim Yong Kim, as its new president.
Many emerging market countries had hoped that this time, America's lock on the top post at the Bank would be broken.
Several governments had been pushing for a non-American to be awarded the position. They were backing Nigeria's finance minister Ngozi Okonjo-Iwaela.
The BBC's Manuela Saragosa spoke to Ms Okonjo-Iwaela and started by asking her how she felt about losing out to Dr Jim Kim Yong.
Full transcript below
Ngozi Okonjo-Iweala: I want to congratulate Dr. Jim Yong Kim. He called me. We spoke already. I let him know that we will work with him and support him, both for the good of the bank and the good of the poor people around the world, who are the object of the Bank' s mission.
Manuela Saragosa: But you must be very disappointed?
Ngozi Okonjo-Iweala: Absolutely not. Actually, if you are here with us in Abuja, we are celebrating. And many young people all over the continent and older people are celebrating, congratulatory messages are pouring in. Why? Because we feel we've won important victories. The first victory is that we have made this process competitive.
We have forced the door open, in terms of looking at selection of candidates not based on nationality, but based on their merits and their qualifications. And whilst this has not worked very well this time, we will continue to push for an open merit based and transparent process as was promised by the Development Committee of the World Bank and the G20 two years ago.
Manuela Saragosa: Some people might be slightly surprised to hear you say that, given that earlier today, you mentioned that you thought these things were not - these appointments were not based on merit?
Ngozi Okonjo-Iweala: I said I don't know what earlier today, you know the references. I am still saying that we moved the process along, nothing I'm saying is different. I was asked whether this was now a more political process. And I said yes, it seems to be more political.
I am saying that we have opened the door to having a more merit based system in future. The interpretation of that is that we need to do more in that direction. And we must fill the deficits; democratic deficit in global governance has to be filled. In order to do that, we need to have a better process than the one we had now.
Manuela Saragosa: But is it right that the World Bank is led by someone who is medical doctor by background rather than a development economist, someone like yourself who would have been a development economist for example?
Ngozi Okonjo-Iweala: I'd rather talk about the qualifications. And the World Bank has to be led by someone who has both the technical qualifications as well as the political skills to move an institution like that, because at the World Bank, the head of the bank has to deal with many heads of state. Even as managing director, I had to deal with many presidents, prime ministers. You need political skills to do that and finance ministers.
But at the same time, you also need to be an intellectual leader because you've got congregated there some of the best staff in economics in the world. So you need to be both. And you also need to be able to move the institution, to reform it and revamp it, and make it more nimble in serving the needs of people in the developing world.
Manuela Saragosa: You sound like you're putting quite a nice gloss on it, but it must be fundamentally very disappointing for many people in Africa, who had hoped to break this hold, this lock that America has over who leads the World Bank. It's always an American. Wasn't it time now to have someone from the developing world?
Ngozi Okonjo-Iweala: Well, if you know me well, you know I never put a gloss on anything. You're saying that means you don't really know who I am. I never put a gloss. I always say what I mean. And what we knew from the outset that there would be a lot of politics in this. But people on the African continent wanted to try. The leaders wanted to show that they have people capable, not of leading the whole development architecture and development assistants in the world.
We've done it. We show we have the talent. We've shown that we can push - the processes are long, to be more meritocratic. We've shown we have courage. How many people would have courage to come out, to come and fight for something where they know that it's going to be so difficult? So there is no gloss on it, we've won.
Manuela Saragosa: Well, do you think the next President of the World Bank will be someone from emerging markets, a non-American?
Ngozi Okonjo-Iweala: That's exactly what I am trying to say, that we should not be fixated on the geography of where the person comes from. We should be fixated on the talent they bring to doing the job. I think that's what is the wrong thing. People are just fixing on the wrong thing. It should not be, because you're American, or you're Sri Lankan, or you're Nigerian, it should be because you are the best to lead the institution. That's what we are insisting on. There is no reason why an American should not lead. But by the same token, there is no reason why a Nigerian should not lead if they are the best qualified.
If you thought this was interesting, why not sign up for the World Business Report podcast here