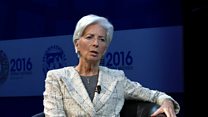 Video
IMF chief says global leadership is needed on financial crime
IMF chief Christine Lagarde says that global leadership is needed to tackle tax evasion, money laundering and terrorism financing.
She also said that better enforcement of rules on international finance is needed. Ms Lagarde was speaking to Stephen Sackur, presenter of the BBC's HARDtalk.
The full interview can be seen on BBC World News on 18 April at 03:30, 08:30, 14:30 and 19:30 (all times GMT).
Go to next video: What the Panama Papers reveal