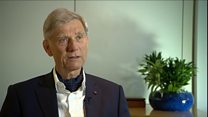 Video
ARM founder: 'Sad day for technology in Britain'
The co-founder of UK technology firm, ARM has expressed his sadness at the sale of the firm to Japan's Softbank.
"This is a sad day for me and a sad day for technology in Britain," said Hermann Hauser.
ARM is one of the UK's most successful technology companies and its computer chip designs are included in most smartphones.
Go to next video: 'The jewel in the crown of British tech'