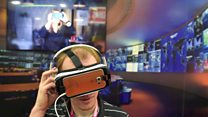 Video
Ten 'jobs of the future'
Within a decade, your next job could be as a space tour guide, a freelance biohacker, or a virtual habitat designer.
Microsoft and trends experts the Future Laboratory have compiled a list of 10 jobs that they think will exist in 10 years' time, but don't today.
Steve Tooze, a futurologist from the Future Laboratory, spoke to Radio 5 live's Wake Up to Money.
"I've got to be honest, some of the jobs on this list surprised even us," he said.