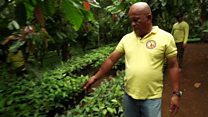 Video
From postman to cocoa farmer
Filipino farmer Grover Rosit started growing cocoa trees more than a decade ago - and has been so successful since that he retired from his job as a postman and is earning enough to put all his children through college.
Initially, it was just a trial of 50 trees but his farm quickly doubled in size. Today he operates a big farm and hasn't looked back.
"I know there is gold in the plants and that is cocoa," he told the BBC's Ashleigh Nghiem.
Go to next video: Sweet ambition for Ivory Coast cocoa