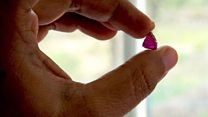 Video
Mozambique's lucrative ruby mines
Half of the world's rubies are mined in Mozambique but operations are not without their challenges.
In 2009 a vast deposit of rubies was discovered in northern Mozambique and now half the world's red gemstones come from there.
The BBC's Jason Boswell went to Montepuez in Mozambique to find out more for Africa Business Report.