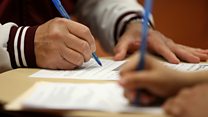 Video
Can you decipher this job ad jargon?
Business jargon is putting off young applicants- Radio 4's PM tries to decipher some of it.
Business jargon in job adverts is putting young people off applying for their first job, a charity says.
Business in the Community asked 16 to 24-year-olds to rate entry level job adverts from 65 companies. More than half did not have a clear job description.
BBC Radio 4 PM's Andrew Bomford asked Lauren Roberts, 20 and Nicole Guttridge, 19 to decipher some of the terminology.
Answers: DOE means dependent on experience, EA is an executive assistant and a COO is a chief operating officer