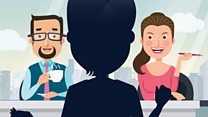 Video
Outrageous job interview questions
What strange questions have you been asked in a job interview?
From inappropriate questions about pregnancy to unusual activities, could you beat any of these?
Video journalists Greg Brosnan and Dhruti Shah
Read more: Just the job? When interviews go wrong
Go to next video: Are these the world's most unusual jobs?