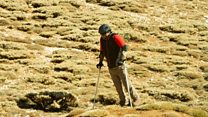 Video
The paralysed man who walks to raise awareness of environmental issues
This month BBC Outlook is on the hunt for the world's most extraordinary people for the series Outlook Inspirations.
Listener, Rosette Fares from Beirut, Lebanon, nominated her friend Michael Haddad who has taken more than 5,000 steps to plant 5,000 trees in a bid to raise awareness of environmental issues.
She said: "He had a jet ski accident at the age of six, and this left him with 75% paralysis. Michael worked so hard to make his first step, and then he registered three world records in climbing and walking."
Andrea Catherwood spoke to Michael through an interpreter from his home in Lebanon as he told her about his biggest challenge after the accident.
Picture credit: Michael Haddad