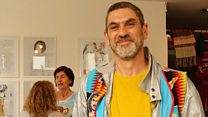 Video
Dave Mercer had been married three years when a brain injury changed everything.
Dave Mercer had been married for three years when he had encephalitis, an inflammation of the brain, which changed his personality and relationship forever.
He says the illness turned him into a "moody teenager" with behavioural problems. His wife says if she met him now, she would never marry him.
During rehabilitation Dave started going to Headway East London, a brain injury charity, and discovered a passion for art that hadn't existed before his illness.
BBC Ouch's Beth Rose and Helen Weaver met Dave at the pop-up Submit To Love Gallery in Hoxton where brain injury survivors have been selling their art.
A transcript of the programme is available here.
Please share this programme on social media, plus rate it and leave comments on iTunes or wherever you get your podcasts from.
If you want to get in touch, email ouch@bbc.co.uk, tweet @bbcouch or find us on Facebook.