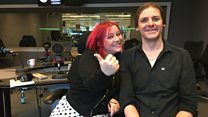 Video
Do you get caught in the Faff Zone?
Do you procrastinate to the point that you get very little done? And how do you break free?
Presenters Mark Brown and Seaneen Molloy-Vaughan call it the Faff Zone and say it hijacks your mind.
It's a mental health takeover on this week's BBC Ouch podcast. Drop in on the two as their lively and reassuring discussions give a bit of necessary focus and humour to living with mental health difficulties.
A transcript is available here.
We welcome your feedback. Subscribe, like, share or review us on Apple Podcasts or whichever service you get your podcasts from. The more you do this, the more you'll flag this programme to other disabled people who might appreciate it. Send us your ideas and feedback or just say hello: email ouch@bbc.co.uk tweet @bbcouch or find us on Facebook.