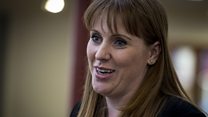 Video
Are universal free school meals a good idea?
Labour leader Jeremy Corbyn says he wants to extend free school meals to all primary school pupils in England. Mr Corbyn is proposing to cover the cost by introducing VAT on private school fees.
Shadow Education Secretary Angela Rayner told the Today programme there is evidence free school meals raises attainment and improves children's health.
Go to next video: Schools to receive attainment gap funds