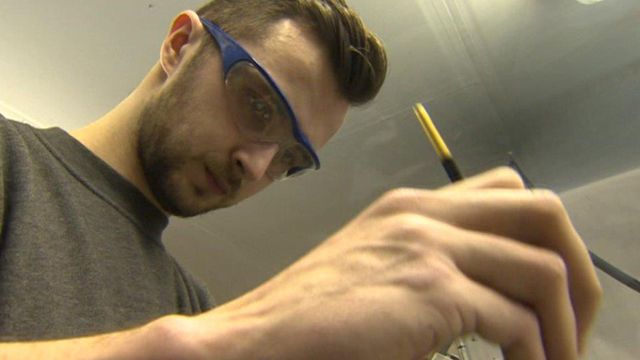 Video
Election 2015: 'Higher wages for more skilled jobs'
Economics correspondent Sarah Dickins visits a firm making numbers and name plates for homes to see how strong business is.
The House Nameplate Company was established as a family business in Wrexham nearly 30 years ago and is now part of the Timpson retail group.
Dave Povah is an engraver who was taken on by the Jobs Growth Wales programme - run by the Welsh government in Cardiff - which helps firms take on workers and pays for training.
He has not voted before and is not quite 100% sure who to support.
Mr Povah says he can feel the economy improving in terms of jobs but thinks wages should rise for those with the most skills and for those in hospitals and emergency services.
Go to next video: UK Election 2015: A brief guide