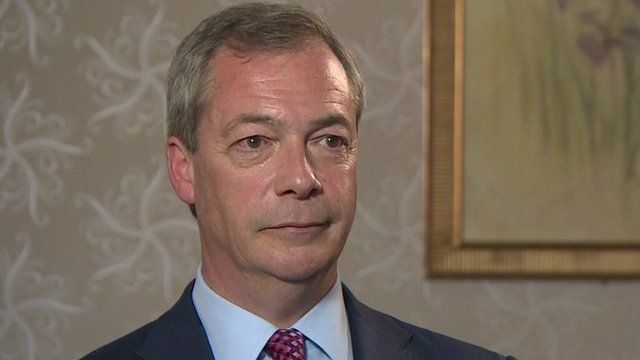 Video
Election 2015: Staying in EU will cost UK, says Farage
If Britain voted to stay in the European Union there would be less money for the NHS and tax cuts, UKIP leader Nigel Farage has said.
He was interviewed by BBC deputy political editor James Landale on the party's election manifesto, launched by Mr Farage earlier in the day.
The party is promising to lower taxes, increase NHS spending and commit to 2% of GDP being spent on defence - funded in part by leaving the EU.
Mr Farage said his party had already "costed in" an extra £3bn a year for the NHS and insisted that "our sums add up".
The UKIP leader was also asked about the party's deficit reduction plans; his electoral hopes in Thanet South, where he is seeking to become an MP, and UKIP's future.
A full list of the candidates standing in Thanet South can be found here.
Go to next video: Top five UKIP and Farage moments