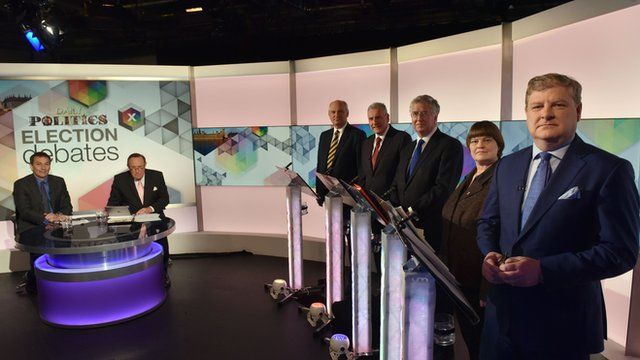 Video
Election 2015: Daily Politics debate on defence and security
In a Daily Politics election debate, Andrew Neil and the BBC's Diplomatic and defence editor Mark Urban were joined by leading politicians to discuss election policies on defence and security.
The panel included Conservative and current Defence Secretary Michael Fallon, Labour Vernon Coaker, Lib Dem Sir Nick Harvey, Angus Robertson from the SNP and Rebecca Johnson from the Green Party.
Each member of the panel opened with a statement on their party's policy on defence, before they faced questions from the presenters.
Subscribe to the BBC Election 2015 newsletter to get a round-up of the day's campaign news sent to your inbox every weekday afternoon.
More: Follow @daily_politics on Twitter and like us on Facebook and watch a recent clip and watch full programmes on iPlayer
Go to next video: Labour 'committed' to Trident renewal