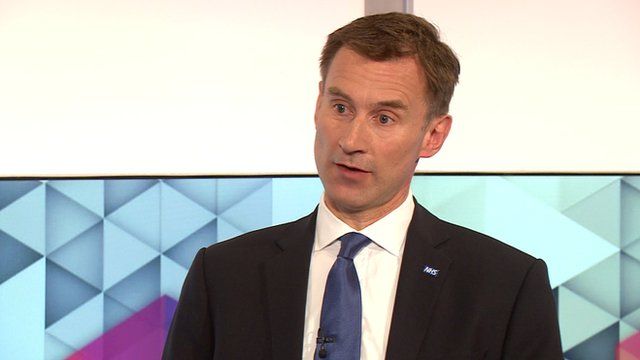 Video
Election 2015: Jeremy Hunt on £8bn NHS funding
Parties clashed over the future funding for the English NHS in a Daily Politics debate as the health secretary was accused of failing to answer the question over how a £8bn pledge over the next Parliament would be funded.
Jeremy Hunt said the government has already increased spending by £7bn over the last five years, when asked where the money would come. He said: "Look at what we have actually delivered for the NHS in this Parliament".
Shadow health secretary Andy Burnham said Labour was the only party with the "fully-funded plan" to increase spending on the NHS.
Subscribe to the BBC Election 2015 newsletter to get a round-up of the day's campaign news sent to your inbox every weekday afternoon.
More: Follow @daily_politics on Twitter and like us on Facebook and watch a recent clip and watch full programmes on iPlayer
Go to next video: UKIP backing for ban on smoking in parks