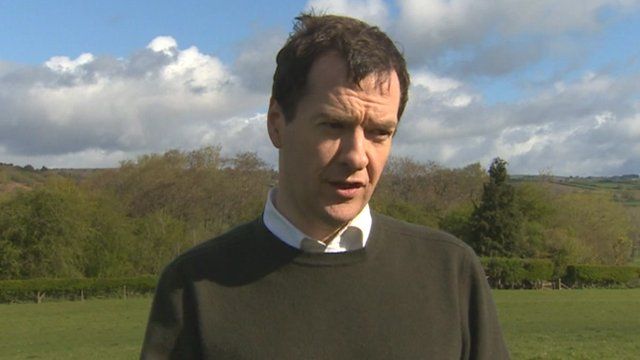 Video
Election 2015: Osborne promises Welsh laws in 100 days
Chancellor George Osborne has promised a law giving more power to Wales within 100 days of a Tory election victory.
On a campaign visit to Glasbury-on-Wye, Powys, he said the nation would also be given "more security of funding" than had ever happened under Labour.
But the Liberal Democrats argued devolution had "moved faster" with them in office, despite "Tory resistance".
Lib Dem candidate Jenny Willott warned: "The Tories will only promise fair funding for Wales with strings attached."
Mr Osborne also insisted the Welsh economy was "fundamentally better than it was five years ago".
He said: "Wales was one of the poorest parts of the UK. Now it's the fastest growing region outside London."
Go to next video: NHS in Wales a 'travesty' says Hunt