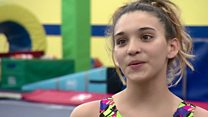 Video
Young US gymnasts inspired by 'Final Five' American women's team
The American women's gymnastics team has already made a huge mark at the Olympics in Rio by taking home team gold.
While millions of Americans cheered them on from the couch, some tiny tumblers hope to follow in their footsteps.
Laura Trevelyan visited a gym in Silver Spring, Maryland to see the young athletes in action.
Filmed by: Ian Druce; Edited by: Olivia Lace-Evans
Produced by: Mat Morrison
Go to next video: 'Everyone's chasing the Pikachu pin'