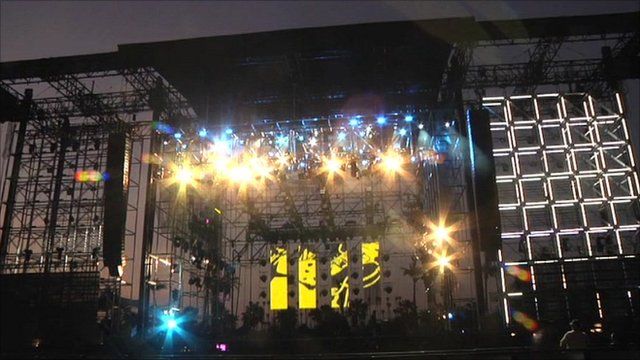 Video
Coachella festival main stage becomes spectacular light show
Live music and three-dimensional electronic art will coincide at the Coachella Valley Music and Arts Festival in California this weekend.
The three-day festival, which started in 1999, is redefining the concert experience in collaboration with the New York-based global culture and technology initiative, The Creators Project.
The most striking contribution is the design of the main stage. The imposing, 25-meter tall, skeletal structure looks like giant Rubik's Cube.
It has been created by the British design team, United Visual Artists, and consists of massive chain of controllable lights which constantly change their pattern and intensity according to which band is performing.
The headline bands, Arcade Fire, Interpol and Animal Collective have had a close involvement in developing the structure of the stage by incorporating their own lighting designs.
Peter Bowes had a look round.
Go to next video: Inside the Coachella dance tent