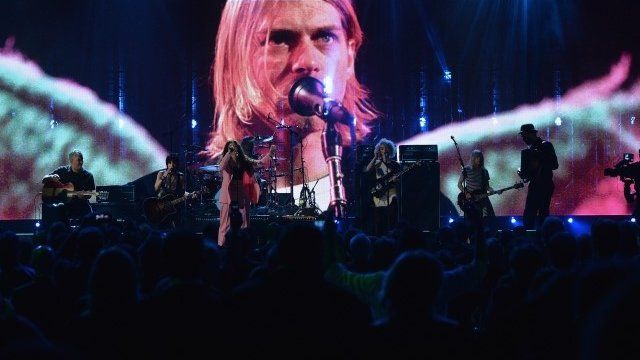 Video
Rock and Roll Hall of Fames' roll call for 2014
Kurt Cobain's widow Courtney Love was just one of the singer's relatives to applaud Nirvana's induction into the Rock and Roll Hall of Fame at a ceremony in New York.
She said he would have "really appreciated" the honour. A troupe of female performers including Joan Jett and Lorde joined Nirvana's remaining members on stage to perform the band's greatest hits at the bash.
Coldplay's Chris Martin was on hand to introduce and perform with inductee Peter Gabriel.
And Kiss failed to perform, after a wrangle about their line up, but were on hand to accept their award.
Other inductees included Hall and Oates, Yusuf Islam (Cat Stevens), The E Street Band and Linda Ronstadt, who was represented at the event by a band of female country singers.
Clips courtesy of HBO
Go to next video: Kurt Cobain: The last photo session