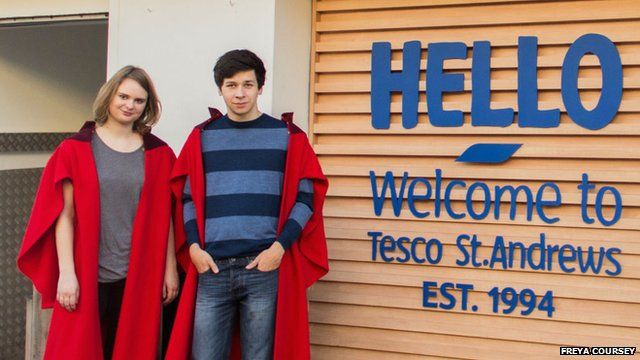 Video
Tesco replies to students' complaint with poem
Two students who wrote a poem complaining to Tesco say they were "very impressed" to receive a reply - in verse.
Tomi Baike and Isabelle Bousquette wrote a sonnet to complain that they could no longer find their favourite brand of popcorn in their St Andrews Tesco branch.
In poetic verse, the supermarket responded that the popcorn had been discontinued at the St Andrews branch but was available in other stores.
Ms Bousquette said: "We were quite disturbed by the lack of our favourite popcorn... so we resorted to the only medium we know how, which is Shakespearean sonnet."
This clip is originally from Radio 5 live Drive on 25 November 2014
Go to next video: Lewis takes over as boss of Tesco