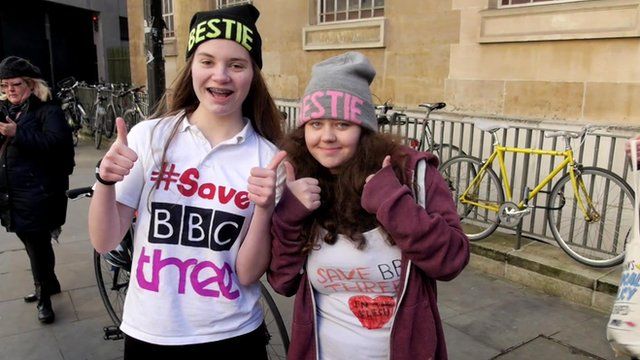 Video
Save BBC Three petition delivered to BBC Trust
Campaigners against proposals to turn digital station BBC Three into an online-only channel in the autumn have delivered a petition, signed by more than 270,000 people, to the BBC Trust.
The channel is under threat due to cost-cutting at the BBC.
Labour MP John McDonnell said they hoped the petition would "send a message to the top" to "think again".
BBC bosses plan to shift the savings to other areas, earmarking £30m for drama.
Protest singer One Man and his Beard - AKA Manchester musician David Gorton - joined the group of campaigners to perform a song he has written called Save BBC Three outside New Broadcasting House.
After the protest they marched the short distance to the BBC's Trust headquarters to hand the petition to Jon Cowdock, the Trust's head of business strategy.
He revealed more than 20,000 people had submitted their comments to the consultation so far and "it is not a fait-accompli."
Go to next video: BBC Three 'vital' for entertainment