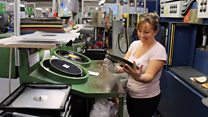 Video
Newsbeat visit a Prague vinyl factory.
GZ Media is one of the world's largest vinyl manufacturers, producing 18 million records in 2014.
The company's factory is situated in the village of Lodenice, just outside of Prague.
The firm has seen a huge growth in demand for vinyl records over the last few years, mirroring the fact that sales in the UK have hit an all time high.
GZ Media's boss Michal Sterba gave Newsbeat special access to the factory to see how vinyl albums are made.
The process has remained largely the same for decades.
Newsbeat's Steve Holden reports.
Find us on Instagram at BBCNewsbeat and follow us on Snapchat, search for bbc_newsbeat