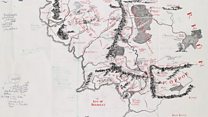 Video
Tolkien's 'densely annotated' Middle Earth map
A map of Middle Earth - annotated by JRR Tolkien himself - is being displayed at the Bodleian Library just one day.
Tolkien's notes on the map were made in the 1960s when his publishers wanted to turn the map attached inside copies of The Lord of the Rings' into a poster.
Chris Fletcher, Keeper of Special Collections at the Bodleian Library, told the Today programme what we can learn from the map.