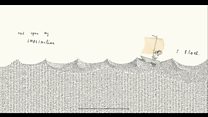 Video
The future of the children's book
Can printed books ever compete for the attention of a generation brought up on video games and elaborate special effects on screen?
The famous author Oliver Jeffers and graphic artist Sam Winston have worked together to create A Child of Books, which presents extracts from 42 classic stories and lullabies in a new way.
In the book, words from Gulliver's Travels are turned into waves, an extract from Frankenstein becomes a horned monster, the Grimms' fairy tale Rapunzel cascades as a rope from the turrets of a castle.
They explained to the World at One's Martha Kearney.