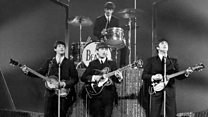 Video
Turning down the screams at a Beatles gig
The Beatles album Live at the Hollywood Bowl, featuring the band's shows in Los Angeles in the mid-1960s, was the first but also the last time the band was officially recorded in concert.
First released in 1977, and overshadowed by the sound of screaming fans, it has never been re-issued until now.
Giles Martin, the son of The Beatles late producer Sir George Martin, remixed the album at the Abbey Road Studios and gives an example of how they managed to reduce the screams.
(Music courtesy of Apple Corps Ltd. / Universal Music Group)