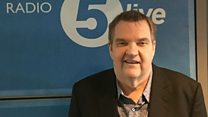 Video
Meat Loaf: My back injury 'hurts like hell'
Meat Loaf has revealed that he has a pinched nerve in his back.
Speaking to 5 live's Colin Paterson and Sam Walker, the Bat out of Hell singer said: "It doesn't hurt when I'm sitting but when I stand up it's like I'm in Norman Bates' movie, Psycho. In it I'm being stabbed by Norman Bates. It hurts like hell."
Referring to a performance in June when he collapsed on stage Meat Loaf said: "That had nothing to do with the pinched nerve - it was dehydration that was all it was."