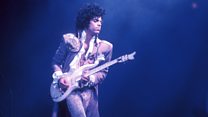 Video
Who did Prince write Nothing Compares 2 U for?
21 April is the second anniversary of Prince's death - and in tribute his estate have released of the original version of one his most famous songs, Nothing Compares 2 U.
This previously unreleased version was recorded in 1984, six years before Sinead O'Connor version. Prince then - amazingly - gifted it to a band called The Family - who were Prince's proteges and they included it as an album track on their one and only album.
BBC 6 Music Breakfast spoke exclusively to recording engineer Susan Rogers and Family vocalist St Paul Peterson about the history of this incredible song.