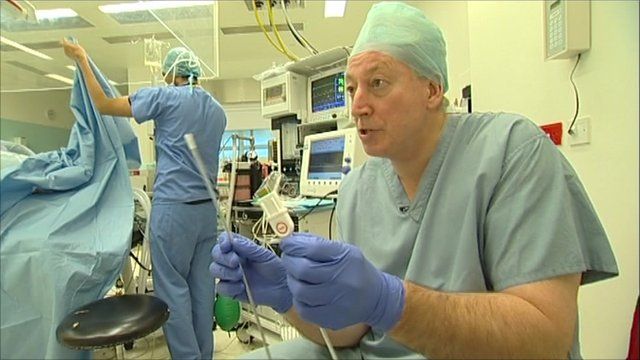 Video
How a blood flow monitor works
Prof Monty Mythen, an anaesthetist from University College London and University College London Hospitals NHS Trust, shows the BBC's Fergus Walsh, how a blood flow device works.
It is inserted down the gullet and rests near the heart. Ultrasound waves are reflected off blood flowing out of the heart to measure its speed and volume.
By monitoring the amount of blood circulating in patients undergoing major surgery, doctors can adjust the amount of fluid to optimise blood flow.
In its guidance for England, the health watchdog, the National Institute for Health and Clinical Excellence (NICE), says the device which was developed in Britain, reduces complications and speeds up recovery.
At present, fewer than three in 100 eligible patients are monitored using it, but NICE estimates if that figure was increased to 50 in 100 patients, it would save the NHS in England more than £400m a year.
29 Mar 2011

From the section

Health