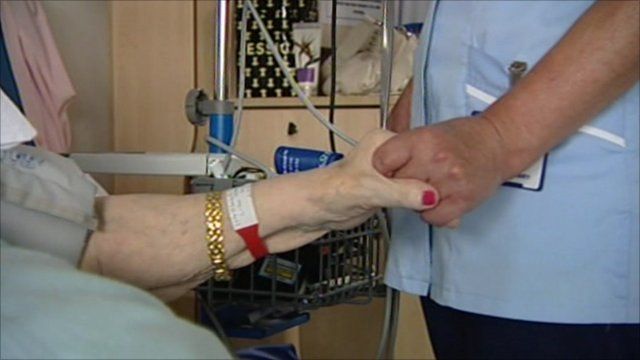 Video
'Patients ignored by nurses too busy talking'
Snap inspections at NHS hospitals in England have found one in five of them neglecting elderly patients to such an extent that they were breaking the law.
At the Alexandra Hospital in Redditch, staff had to prescribe water to ensure patients got regular drinks. Some patients had not had fluids for more than ten hours.
In the same hospital, meals were served to people who were asleep or were not in a position to eat and they were left to go cold before staff came to help.
At the Sandwell General Hospital in West Bromwich, a woman had to use the toilet in full view of the ward and an incontinent patient who had soiled himself went unwashed for an hour and a half.
Suzie, a pensioner from Stoke who recently spent time in hospital, was appalled by the way the staff treated some of her fellow patients.
Go to next video: Basic elderly NHS care 'alarming'