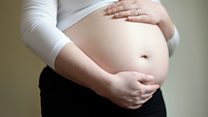 Video
Epilepsy drug dangers 'not taken seriously'
Almost 70% of women surveyed about a powerful epilepsy drug have not received new safety warnings about the dangers of taking it during pregnancy, the BBC has been told exclusively.
Sodium valproate, known as Epilim, carries a 10% risk of physical abnormalities in unborn babies.
Susan Cole told the Today programme how her daughter developed fetal valproate syndrome after Cole took the drug during pregnancy.
Go to next video: Robotic probes for epilepsy 'wonderful'